Laser Medical Center
3816 S. Bristol, Suite M
(Across from South Coast Plaza)
Phone: 714-662-7456
Email: lasermedical@mac.com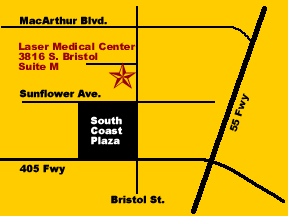 Monday -
Saturday
9am-5pm

We are conveniently located
across from South Coast Plaza in the Ross and TJ Maxx Shopping Center. Take the 405 freeway and exit Bristol St., head north towards South Coast Plaza, cross Sunflower and turn left at the next signal (Callen's Common). We are on the second floor of the bluish-green two story building directly behind the McDonald's.